Lawn Care in Norman You Can Count On
Locally owned and located right here in Norman, Oklahoma, we are your premier lawn care company offering the highest quality lawn care services at affordable prices, including lawn fertilization, weed control, and insect control.
Exceptional Yet Affordable Lawn Fertilization
Providing your turf with the appropriate amounts of fertilizer is, above all else, the most important thing you can do for your lawn. Giving your grass the proper nourishment it needs will help keep it healthy, vibrant, and dark green. The stronger and more durable your grass is, the more resistant to weeds, pests and diseases it will be.
Green and Clean Lawn Care offer a six-step lawn fertilization program that begins in early spring when our cool-season grasses wake from dormancy. We start with an application to help prevent and control weeds and then follow each treatment with nutrient-rich fertilizer. Our perfectly measured and timed fertilization applications can offer you a healthy, green lawn at an affordable price.
Call Us Now at (405) 366-7410!
High-Quality Weed Control
Weeds can make any yard look unattractive, and one weed can quickly turn into two if you haven't the right maintenance plan in place. At Green and Clean Lawn Care, we offer a program that can help keep your lawn clear of these obnoxious lawn invaders year-round.
This highly effective program will keep your turf free from common weeds such as:
Crabgrass
Dandelions
Nutgrass
We begin our weed control program with preventive methods starting in early spring. With six applications, we combine a mixture of pre-emergent and post-emergent herbicides that stop weeds before germination and control weeds that have already emerged. Locally owned, we live, work and play here in Norman. Our technicians are experienced and familiar with the different types of weeds that grow in our region and how best to combat them.
When you invest in Green and Clean Lawn Care's weed control program, you'll receive the following and more:
Use of pre and post-emergent herbicides
Highest quality products
Experienced and knowledgeable technicians
Approachable staff
Weed-free guarantee
Safe Indoor and Outdoor Pest Control
No one wants to deal with pesky insects while enjoying their backyard, especially when inside. Green and Clean offer indoor and outdoor pest control services to help keep your outdoor and indoor living spaces safe and free from the wrath of harmful and annoying bugs.
Outdoor Pest Control
We offer high-quality outdoor pest control treatment offering thorough coverage of your grass. It is applied directly to your turf and typically requires several treatments. Here in Norman, we have several insects that can disrupt the growth of your lawn. One of the most common is the tiny beetle larvae called a grub. It burrows deep within your soil and the eggs it hatches, then feasts on your roots. This can cause brown patches, withered, dried-up grass, and wet spongy areas.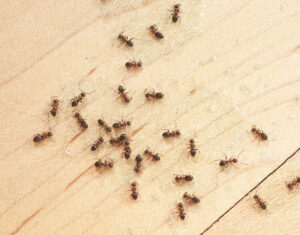 Our outdoor insect control can help prevent:
Grubs
Ants
Crickets
Beetles
Indoor Pest Control
Your home is your safe haven. Keep it that way with Green and Clean Lawn Care's indoor pest control services. If you are faced with a pest infestation inside your home, we can help.
We can treat the following indoor pests:
Ants
Roaches
Bedbugs
Mice & Rats
And many more!
Dealing with pests for over 30 years, we are certified through the Oklahoma Department of Agriculture for all the services we perform. We have beautified lawns and made customers happy with exceptional service throughout Norman and beyond for three decades. Find out what keeps our customers coming back.